"The Jaws of Life:" A very unique album from Pierce the Veil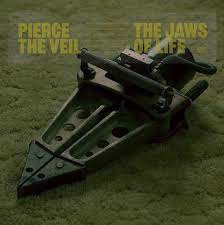 Pierce The Veil announced their new album back in November, about two months after they released their single "Pass The Nirvana." When the new album "The Jaws Of Life" released, this single was one of the tracks. This was groundbreaking for Pierce The Veil fans because their last album came out 7 years ago in 2016. I only started enjoying Pierce The Veil's music a year or two ago. I didn't think about the band until I heard a few songs I liked through TikTok, and more recently after hearing my partner listen to "King For A Day," I started to like it.
Disclaimer: I don't think the album is bad. It is simply not my cup of tea, and I was really disappointed on my first listen because it wasn't as similar to their old stuff as I would've liked it to be. There were three songs out of the twelve in this album that I liked enough to talk about in this article, and one that I loved.
That song was "Pass The Nirvana." It was different from any other song they released and I loved the change instantly. I couldn't stop listening to it. I loved the slow feel of the song, but it still had energy. My favorite part was the bridge when the lead singer, Vic Fuentes, repeated the chorus but without the music behind it. It was just raw vocals and every time I listen to it, I just soak in the sound. If I was reviewing just this specific song, I would give it 6/5 Spartan Heads.
The next song I want to talk about is "Death Of An Executioner," which is the first song on the album. Keep in mind, I was excited about this album because I already heard the change in "Pass the Nirvana," but it didn't really deliver. All in all it's a fine album opener, but not a great song. I didn't know it during my first listen, but it was an okay setup for an okay album. I like the fade-in sirens as the song starts and how the beat picks up to start the song. The music at first gives a feel of their old stuff which was nice, but it's still different. This gave me hope for the album – something based on their old stuff but still new. As the chorus starts though, there's something cheesy about it. Something "Viva Las Vengeance" by Panic! At The Disco about it. Once again, it's a fine song, but there's something I don't like about it that I just can't put my finger on.
One of my other favorite songs from this album was the title track, "The Jaws of Life." It has a much slower feel than their other songs which works for a song like this, in my opinion. The song seemed like it was supposed to be a big, moving, emotional piece and I think they pulled it off. One of the things I love about the album (but specifically this song) is the vocals. I love Fuentes' voice and I have since I first started liking Pierce the Veil.
The last specific song I want to talk about is "So Far So Fake." This is by far my favorite song on the album besides "Pass The Nirvana." There's not really anything bad to say about this song besides the fact that it still has the same vibes as the rest of the not-so-good songs on this album. Specifically, though, I love the guitar during the opening and the verses. I'm a sucker for offbeats and I think they did a really neat job on this song. I think this is another song that is ok without the old, screamy vocals that used to be Pierce The Veil.
My other favorite part of "So Far So Fake" is the lyrics. I haven't looked at a lot of the lyrics to a lot of the songs, but since I've been listening to this song more, I noticed Fuentes' great lyricism. It's a lot like poetry being paired with music, and Pierce the Veil does it extremely well, which can't be said for a lot of bands.
I've heard a lot of reasoning as to why this album was so different, but the thing I heard around most was that the band is in their 40s, have families, and they "don't want to scream" like they used to. Honestly, I think that's a bunch of crap. I think no matter how old you are you're still able to scream.
Overall, this album is very Pierce The Veil, but I don't particularly enjoy it. I feel like they tried to do something different with each song but it reversed the effect they were trying for and blended all of the songs together. The reason why "Pass The Nirvana" and "So Far So Fake" were different is because "Pass The Nirvana" had a more screamy feel to it (like their older stuff) and "So Far So Fake" had much more subtle differences. Sort of like how all of the songs were different so it made them the same, so the one that was "boring" stuck out the most.
The highlights of this album were definitely the vocals, but I'm sort of biased because I've liked this band for longer than this album came out. I'll give this album a very average 2.5/5 Spartan heads.
Leave a Comment
Your donation will support the student journalists of Fargo North High School. Your contribution will allow us to resume physical printing of our newspaper for students at Fargo North!
About the Contributor
Raina Goss
I'm the editor-in-chief for The Scroll this year. Journalism is one of my few passions and what I'll be doing after high school at MSUM. I'm also involved...