Paramore's "This is Why:" An unforeseen comeback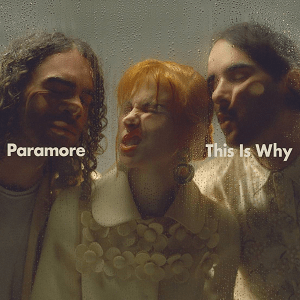 After taking a long break, Paramore is officially back in misery business! It only took 5 years, 8 months, and 29 days for them to release another album since the (pretty mid) "After Laughter." Paramore stayed relatively quiet during their break, only recently getting back into the music scene together as a band for a couple of music festivals.
Lead singer Hayley Williams stayed in the music business doing solo activities, releasing two incredible albums that are also must-listens. However, the drummer, Zac Farro, did some activities with his project group HalfNoise and the guitarist, Taylor York, stayed pretty low during the break.
The first song, "This Is Why," was released on Sept. 28, 2022, as a teaser for their upcoming album. Fun fact, it was actually the last song the group wrote for this album. The music video takes a very stylistic approach with it looking very low-budget but professional at the same time. Very funky indeed. It brings back a lot of the punk sound that they had in the 2000s, which is way more enjoyable than the previous 80s-new-wave songs.
"This Is Why" brings a new meaning to the disorder the world has been in through the last couple of years: racial injustice, the COVID-19 pandemic, shootings, and everything in between.
Williams starts the song with very bitter lyrics: "If you have an opinion / Maybe you should just shove it / Might be best to keep it to yourself," she sings. Which I think embodies what a lot of people think when another person wants to input their irrelevant opinion. I don't blame Williams for writing this song, especially the lyrics "This is why I don't leave the house / Oh why? / This is why," because who would want to leave the house when the whole world is in constant chaos?
Paramore brings their fans another meaningful but just as enjoyable song with "The News." I love how it immediately gets into the song in the beginning, they don't waste any time for a build-up. The lyrics are straightforward: "War, a War / A war on the far side / On the other side of the planet." It is true, there are wars here, across the world and everyone can see if they turn on "The News." The song really brings the topic of war to light since it's so common even in modern ages, from Palestine and Israel to the fight between Russia and Ukraine– things we can never escape.
One of the lyrics Willaims sings is one of my favorite lines in this song, "Every second our collective heart breaks / All together every single head shakes / Shut your eyes but it won't go away / Turn on / Turn off / The News." I feel like this song really encapsulates the views of war for everyone. War is heartbreaking as it tears people apart and ruins lives. Nobody likes it, but even if we turn away and close our eyes to try and ignore it, it'll always exist.
One of Paramore's most relatable songs on the album is "Running Out of Time," which is one of my top three songs for this album. The band first performed the song at the Grand Ole Opry in Nashville, Tenn., on Feb. 6, a week before the album dropped. I really like how the song consistently is slow, slightly speeds up, then comes up with the catchy chorus.
This whole song is just a big mood in general, and as a person with horrible time management and a bad procrastination problem, Williams' lyrics speak to me. "Intentions only get you so far / (It was on my list, I swear I meant to get to it)."
These lyrics are just on a whole other level for relatability, and I'm sure my fellow procrastinators get it too. The entirety of this song is just extremely addicting to listen to. With the nice instrumentals and Williams' voice, it truly deserves a top space for songs.
After a song or two, "This Is Why" begins to slow down, slow guitars and softer drums being the main part now instead of the quick pace electric guitars and hyped-up drums. "Big Man, Little Dignity" starts off in a very calming way, with some windpipes that just soothe the ears before starting off with the slow bass guitar and drums.
The lyrics really pull this song together, talking about the patriarchy and how males are constantly prioritized over any other gender identity. Obviously, the lyrics are very bold about what the song is supposed to be about: men that think highly of themselves but clearly don't deserve any respect. In the beginning, the lyrics sound like a stereotypical love song, "Don't mean to stare at you from across the room / It's like I'm glued to the sheer sight of you / And you're so smooth, it's pitiful." Weird, right? Then, it takes a turn: "Know you could get away with anything, so that's exactly what you do."
Williams is singing about how men can be smooth and get out of sticky situations, which they always do. During the chorus the lines "Big man, little dignity / No offense, but you, you got no integrity" are repeated throughout, she's singing about how men in the patriarchy act, without dignity because they don't have morals to treat people with respect.
Throughout the entirety of this album, the music gradually slows down and becomes more emotional. It's a pattern that is pretty common within Paramore albums, a detail I can appreciate. Though, I do wish the album was a tiny bit longer as its runtime is only 36 minutes long, being their second shortest album yet. After all, fans did wait almost six years for a new album.
Paramore did an amazing job at writing and producing this album regardless of it being a little too short, it still carries some of their best songs. All things considered, this entire album is a must listen and there is not a single skip on it, so get those streams in fast!
Leave a Comment
Your donation will support the student journalists of Fargo North High School. Your contribution will allow us to resume physical printing of our newspaper for students at Fargo North!
About the Contributor
Leyla Arechigo
Hi! My name is Leyla, or Leyaunna depending on if I'm in trouble or not. I am a writer for the Fargo North Scroll! I really like cats and different types...