Despicable Me 3 leaves me feeling despicable
Hang on for a minute...we're trying to find some more stories you might like.
Illumination and Dreamworks' Despicable Me 3, the third installment of the Despicable Me franchise, was
released June 30, 2017, with fart jokes galore. It grossed over $72 million in its opening weekend. To date, it has
grossed over $1 billion worldwide.
Despicable Me 3 introduces several new characters, perhaps the most
important one being Gru's twin brother: Dru. Dru runs a pig farm and lives a lavish lifestyle, but wants to get involved in the real family business: being a villain. So, Dru convinces Gru to help him steal the world's biggest diamond, which Gru wants to use for good, but that's beside the point. The only thing stopping them from taking it is Balthazar Bratt.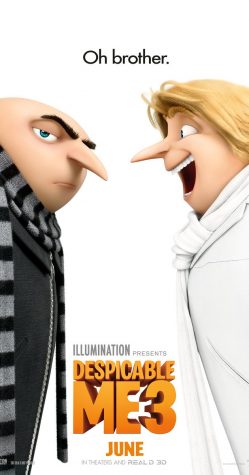 Our shiny new bad guy, Balthazar Bratt, was a child star whose career came to a screeching halt when he hit puberty. Since the demise of his career, he embodied the angsty roll he once played on TV, and became a villain. However, prepare to have several of your favorite classic songs slightly ruined for you, as Bratt has trapped himself in the 80s. Hip-thrusting, mullet, shoulder pads, and all.
Speaking of hip-thrusting, this movie had quite a bit of suggestive material. In one scene between Gru and his mother (who is an apple-faced granny, mind you), the shot grazes across a pool flanked with statues of fit young men
in speedos where Gru's mom is swimming. When she gets out of the pool, she gets out with two very young men, and starts flirting with both of them as they walk away. She even does that weird flirty cat purr to one of them. Talk about scarring.
After taking into account the abundance of hip thrusting, partial nudity for the sake of 'comedy', the minions going to jail, Dru being such a flop and still not dying, and the overall feel of the film, I've come to a simple
conclusion. This is one of the worst movies I've ever seen.
I don't remember the last time I had to put my head in my hands just so I could process the humor in a film. I don't remember the last time I thought about leaving a movie theatre halfway through the movie simply because I was bored of the same one-shot jokes being made over and over again. I can't think of the another time there were 2 fart jokes in the Illumination screen before the actual movie started.
Even if I push aside my personal vendetta against minions, this would still be a terrible movie. There were too many overtly sexual jokes, that made both my friend and I very uncomfortable, for this to be a good influence on children. But if you want your 7-yr old hip thrusting in the frozen foods isle to the songs that play in the grocery store, then by all means, take them to this movie.