Wonder movie leaves me feeling wonderful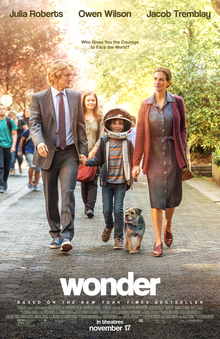 Hang on for a minute...we're trying to find some more stories you might like.
Based on the best-selling novel by R.J Palacio, the motion picture Wonder had an amazing opening weekend in the box office. With 48 million USD, a total domestic gross of $69,440,202, $70,4334,805 worldwide, and $27,547,866 opening weekend, the movie Wonder is ranked #2 in over 3,000 theaters and has a total gross of 98.7%.
Middle school can be agonizing for any kid, but, as the movie Wonder begins, we suspect it's going to be especially hard for 10-year-old Auggie Pullman. After 27 surgeries to help him see, breathe and hear, Auggie doesn't look like other children. He's small and scarred, has a braided rattail, eats like a galapagos turtle and usually wears an astronaut helmet whenever he leaves the house so people won't stare at him walking down the street. But after years of being home-schooled by his mother, he's preparing to join the public school Beecher Prep for the first time.
"Wonder" could have been a movie filled with platitudes about treating others the way you want to be treated. but Stephen Chbosky, a noted child-whisperer who directed the movie, mostly avoided this approach by adapting his script to fit a storyline that allowed the viewers to reach whatever conclusion they saw fit.
Like the book, the movie isn't just told from Auggie's point of view. It's told from different perspectives. His sister Olivia (also called Via) provides her equally shattering story of living in a house where she was mostly overlooked by a mother and father busy taking care of a sick child. She says in the movie that Auggie is the sun and everyone revolves around him. Her story is all the more touching because of her love for him. She isn't bitter so much as desperately lonely.
Auggie's friend Jack also gets his own story showing a sweet boy who nevertheless hesitated to get close to the new kid who looked different. Via's estranged best friend Miranda comes off as a bit of a villain until we see the world through her troubled eyes. The message can be a little heavy handed but no one really never knows what she is going through.
Even though Auggie and Via's parents don't get their own dedicated narratives, their agony and fear is in the background. Auggie's mother makes a particularly interesting character as a woman who gave up her dreams of a PhD to care for her son and now feels both thrilled and guilty about getting her own life back. Auggie's dad provides some much needed comic relief by always knowing how to make the other characters, and the audience, smile.
Despite the difficult parts in "Wonder", there are humorous moments including the recurring image of Chewbacca as one of Auggie's classmates. Combining a heartwarming story and a multiple perspective approach, it's safe to say Wonder will be one of the best movies of the year.This movie is 5/5 to anyone looking for a heartfelt story about self discovery.