2018 Fargo North Track and Field Recap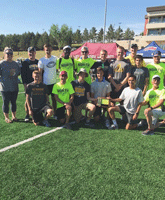 Hang on for a minute...we're trying to find some more stories you might like.
The North Dakota State Track and Field meet took place on May 25-26, and in case you missed some of the results, the Scroll has it covered. The boys and girls both had strong showings in Bismarck and are looking forward to taking another step closer to a state championship next season.
The boys managed a fifth-place finish at state, their 61 points trailing only the traditional powers; Bismarck Century, Bismarck High, Fargo South, and newcomer Bismarck Legacy. Senior Alex Luz was one of the many bright spots for the boys, placing first in the 1600 meter, and third in both the 3200 and 800 meters. He also helped them to a second-place finish in the 4×800 meter relay, a team that also included 2018 graduates Garrett Krom and Liam Clower, and senior Mason Bjorlie. Aside from Luz's contributions, the Spartans earned a fourth-place finish in the 4×400 meter relay with a squad consisting of 2018 graduates Jack Berg, Togbah Peter, and Krom, and Bjorlie. Two more 2018 grads placed for the Spartans: Erik Anderson, placed second in the 110 meter and 300 meter hurdles; and Collin Stremick won the pole vault.
On the surface it may seem like the North boys will have a tough time replacing their seniors, as the final leaderboard was littered with 2018 graduates for the North boys. Anderson, Krom, and Stremick were some of the biggest point getters for the Spartans, but their absence leaves holes that the many underclassmen are eager to fill. Add in established seniors like Luz, Bjorlie, Bridger Scraper, and Peyton Amundsen, it's possible we may see an improvement on last season's finish.
The Spartan girls finished a disappointing eighteenth place, with just one point. The lone point came in the 4x800m relay where 2018 graduates Anna Astrup and Ellie Hammes, junior Gabby Kramer and freshman Anna Lien finished eighth. However, there is excitement growing for the future, and there is much room for improvement. The Spartan girls were young last season, and with another year under their belt they are poised to improve on their last place finish. Kramer and sophomore Grace Dorsher, along with freshmen Anna Lien and Grace Miller all have another year of experience going into next season and are anxious to improve their performances at the state meet.
Make sure to come out and support North's Track teams next spring, or, even better, join the sport where there are events for everyone. The 2019 season starts in February.