A Ride Through Astroworld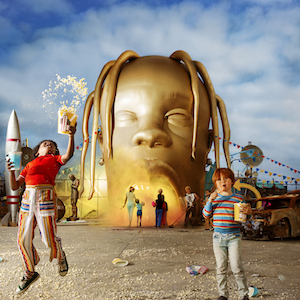 Hang on for a minute...we're trying to find some more stories you might like.
On August 3, 2018, Rapper and Producer Travis Scott released the long anticipated AstroWorld. The album was something Scott had been hyping up since early September 2016. Longtime fans knew that this album was to be Travis's best work yet and have been anxiously waiting just for a confirmed release date. AstroWorld is much different than Scott's other albums. It gives his fans a more personal look into his life, stories, and events. This album is a walk-through of what Scott has gone through to obtain his success. Naming the album "Astroworld", pays homage to the Six Flags Astroworld located in Houston, a place Scott remembers as one of his favorite places to visit during his childhood. Listeners may be surprised after realizing the many features on this latest release.
The features are not mentioned in the titles of the songs, but every song on the album features a different artist.  Artists including Drake, Frank Ocean, The Weeknd, Sheck Wes, and many more. Scott wanted to bring in big names, however he certainly does not lean on these features to carry him through the process; but instead thrives on Taking a ride through Astro-World with T. Scott their energy and collaboration which is evident in his work. As soon as the track begins, STARGAZING, you will quickly see the extent to which the production value and his creative aesthetic has grown. The song has its catchy beat and lyrics along with a change in beat halfway through, changing into a faster flow allowing Scott to truly go into his zone and tap into his thoughts more thoroughly. This song sets the tone for the rest of the album, which is trying to bring you into the joy of youth, and admiration of a success story represented by the Astro-Park themes presented throughout the listen.
When SICKOMODE comes on, Drake starts off with a small part, before getting cut off by Scott, giving listeners a taste of what's to come. Scott continues to go off on a more uptempo beat, produced by Tay Keith, Oz, Cubeats, and HitBoy.  Drake is known to work well with other big-time rappers, so he was the perfect choice for one of the biggest hits on the album. The album certainly has good mixes of faster songs with hard beats and others more focused on softer pop-style approaches, such as ASTROTHUNDER and WHO? WHAT?  This is common with Scott, some may be critical of this however when you put the style of his concerts into perspective, he tries to create ragers at every event, getting the crowd very involved; which would explain the choice of his insane beats and vocals.
When Scott announced he was creating Astroworld back in 2016, we didn't know what to expect. Some feel this album didn't live up to the hype and fell short of what it could have been. I feel that AstroWorld is arguably one of his best works yet. I believe the pop-style tone some might complain about is highly inspired by the sounds of Drakes 'More Life' in 2017. Scott made this album to his best ability not with an all-star list of features, but with a group of people he trusts and works with all the time. Scott point of the album is to bring the listener into the Astroworld, a psychedelic dreamland. Now the question remains whether I think this album is good or not. AstroWorld is certainly his highest production work so far. The features work perfectly with the different tones and beats set up by the producers Scott brought in. Travis Scott has certainly delivered with this one, and La Flame grows larger, as Scott climbs the ladder of popularity, his music has certainly done the same.