To all the boys i've loved before misses book details
Hang on for a minute...we're trying to find some more stories you might like.
The movie To All the Boys I've Loved Before is becoming a cult teen girl favorite since its release on Netflix in mid-August. Not only is it addicting but it makes you feel like you want to be a 16-year-old girl in love.
The story, based on Jenny Han's bestselling book, is about a 16-year-old girl named Laura Jean (played by Lana Canandor) who writes a letter and addresses it to every crush that she's had since elementary school. One of the boys ends up being Peter Kavinsky (played by Noah Centino), the most popular guy in school. Laura Jean who is very close with her two sisters Margot (Janel Parrish) and Kitty (Anne Carthcat). Margot, Laura Jean's oldest sister, is going to school overseas. She just broke up with her longtime boyfriend, Josh (played by Israel Broussard), who also happens to be Laura Jean's longtime crush. But everything changes when the letters she had written to all her crushes were discovered by her younger sister and accidentally not so accidentally delivered to each of them. Peter Kavinsky then confronts Laura and decides that they should fake date so he can make his ex-girlfriend jealous and so that Laura can get over her crush on her sister's ex-boyfriend.
Like all fake dating stories, the main characters end up falling love and dating for real. So, what makes To All the Boys I've Loved Before any different? Well, first as a Netflix original movie the acting is pretty good. Many past Netflix Originals have had good stories but below average acting. Noah Centino, who built a cult following overnight, just happens to be every teenage girl crush at the moment. His acting in the movie was years beyond his age and his character was is every girl's dream guy. As for his co-star, Lana Candor, her character is one that everyone can relate to. Whether it's her sense of style, how clumsy she is, or how cringy she acts in her first relationship, everyone can relate.
In most of the movie scenes, you can get a one on one perspective of how life was like for Laura Jean while she was slowly becoming popular after starting her fake relationship with Peter. The best scene would have to be when Peter first introduces Laura Jean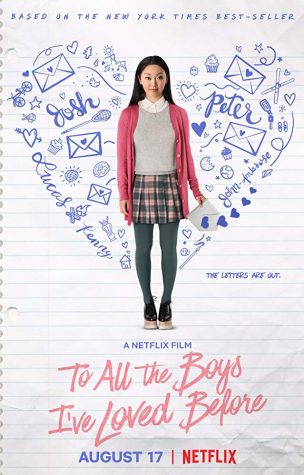 to the school as his girlfriend. He walks her into the lunchroom with his hand in her back pocket and when everyone is looking he spins her around and to make his face her and hands her a love letter, the one thing that Peter's ex-girlfriend had always wanted from him.
It's no surprise that the book is much more detailed and has many different scenes than the producers 
included in the movie. Even though many of the major plot points are the same, the producers still missed a lot of important scenes and detailed. One major change was the beginning of the Laura Jean and Peter Kavinsky, the first kiss. In the movie, Laura Jean kisses Peter Kavinsky
to get away from Josh so she doesn't have to talk to him. She bombards him while he's running outside on the track during gym class and pretty much tackles him to the group and kisses him. But in the novel, Laura Jean Talks to Josh and tells him that Peter and she are dating, which they aren't, and then sees him in the hallway and runs and jumps in his arms and kisses him in front of everyone.
Honestly, the book was much better just because there were so many more details an
d you got to know each character much better. I would recommend the book over the movie but I believe that they are both good for the teenage girl looking for a good romantic comedy story.
About the Writer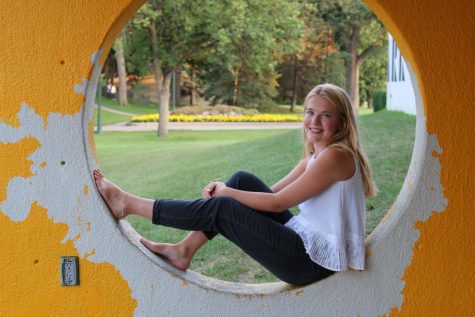 Tanna Schloesser, Reporter
Tanna is a senior at Fargo North. She is involved in HOSA, History Club, and Journalism. In her free time, she is most likely doing yoga, traveling, or...