Girls golf team excited to play at state
Hang on for a minute...we're trying to find some more stories you might like.
Fargo North's golf team has been working hard towards their goal of qualifying for the state meet.
They played recently in the EDC on Monday, Sept. 24 at Maple Grove Golf Course qualifying for state in the process. They also played in their individual state qualifier on Monday, Sept. 10, at Village Green Golf Course in Morehead. Sophomore Tonya Berg was the only girl to individually qualify for state.
"Right now, our biggest weakness would be that we have missing girls in the last couple of meets and trying to keep a positive mindset while things are not so good," said England. To overcome the weakness, they are going to come together as a team and be there for each other.
The meet at Village Green Golf Course went well for an individual qualifier even though the team was missing their two captains for homecoming coronation and one of their higher-ranking varsity players, freshman Taylor Martin, who was out with a wrist injury.
"The highlight of the tournament was probably that our number one won the tournament and that was super cool," said senior Julia Morris.
With EDC coming up quickly they have been preparing themselves in practices. England, who may not be able to play due to a dislocated left pinky from the girl's powderpuff practice during homecoming week, says that the team is taking practice very seriously. She wants them to take every swing as if they are in a tournament. Each girl is preparing in their own way as well.
Morris is preparing herself for the big tournament by, "Eating those carbs and practicing."
Both Morris and England have many opinions about the sport. "The best part about golf is sinking in long putts," said England. This year she was most excited for being surrounded by a great group of girls that get along well. So far, her favorite thing about this year is taking a leadership role. Morris was most excited for improving on a game that she can play for the rest of her life.
About the Writer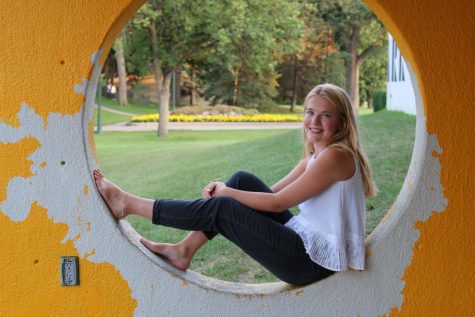 Tanna Schloesser, Reporter
Tanna is a senior at Fargo North. She is involved in HOSA, History Club, and Journalism. In her free time, she is most likely doing yoga, traveling, or...