Crazy Rich Asians is predictable, not revolutionary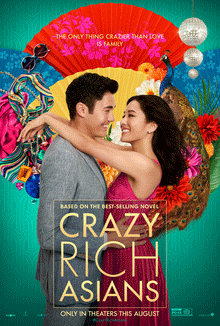 Hang on for a minute...we're trying to find some more stories you might like.
By Griffin Thurston
"Crazy Rich Asians" is the new box office hit that rolled out into theaters last month on August 15th, that stars actors such as Constance Wu, Henry Golding, Michelle Yeoh, and Gemma Chan. The movie is based off a woman from New York who travels to the Indonesian country of Singapore to meet her partners family. When she arrives, she is astonished by the fact that they're filthy rich.
The year is 2018, and an economics teacher plays poker with her student to teach them risk and reward, and she beats them and impresses the rest of the crowd. She then goes to meet her significant other, Nick, for a meal where he breaks the news that he wants to go to Singapore for his best friend's wedding. This is when a popular blog site referred to as Radio1Asia sends a picture of the couple to Nick's family and wants to meet his new girlfriend.
When they arrive at the airport, they're surprisingly placed into first class. Keep in mind Rachel still has no idea that he's rich. Rachel, not being accustoed to this luxury, questions him. He admits that he comes from a wealthy family. He mentions a couple of his cousins who make a fortune from being an actress and working as a banker. When Nick mentions his last cousin, Astrid, the film displays a scene where she decides to purchases earrings worth more than $1 million dollars.
When they arrive, Rachel decides to go visit her old college roommate, who also happens to be filthy rich. This looks like a scene right out of the Great Gatsby, with their family consisting of new money type values. When Rachel decides to break the news that she's dating Nick, it's like the world stopped turning on their axis in distraught of the fact that they're the biggest real estate developers in the Singapore area. This is when Rachel tells her friend that she's going to a wedding, and they pick out some of the finest clothes they have to offer.
The next day, both Nick and Rachel go to their respective bachelor and bachelorette parties. Conflict strikes when Nick gets on the freight ship for the party and reveals that he plans to propose to Rachel. His friend is upset because he knows that Nick's family will be ashamed due to Rahel's familt not being rich. He also tells him that he thinks Nick can do much better. This also means that if he marries her, he loses the right to claim the inheritance.
Later, Rachel shows up at the wedding and shocks everyone with her dress as it looks so noble on someone who wouldn't be able to afford it, and Nicks best friend is finally married.
Afterwards, they are called in by two people, Rachel, and Su Yi, where they admit that they hired a private investigator to find out the details of her past life and finds out that her biological father is still alive, but her mother had an affair and fled to America, and if Nick were to marry her he'd lose his fortune.
Rachel then runs out of the room crying and goes to stay with her old roommate and packs her bags. This is where Nick proposes to her, and she turns him down because she doesn't want to be the reason he loses out on the inheritance.
Although this movie was described with such words as revolutionary, it did not meet my expectations. In conclusion, because of the basic storyline, I would rate the movie "Crazy Rich Asians" 2/5.