Tight ND Senate race garners national attention
Hang on for a minute...we're trying to find some more stories you might like.
On Nov. 6, North Dakotans will vote for a senator that will represent our state for the next six years. This very competitive race and the most expensive one in ND history has two candidates for the position: incumbent Democrat Heidi Heitkamp and Republican Kevin Cramer.
It's hard to not have your newsfeed infiltrated with slander ads against both candidates. Beyond the content seen in the advertisements, both candidates have distinct platforms and policies that they wish to bring to North Dakota.
On the topic of health care, the candidates only differ slightly. Because Heitkamp portrays hersel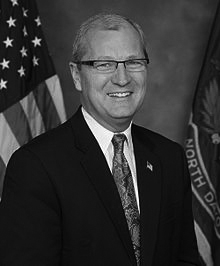 f as a conservative Democrat, she is not in complete support of programs such as the Affordable Care Act. Rather, she has worked with both parties to provide practical fixes to the issues with the program while increasing access to health care for Americans.
On the other hand, Cramer is completely opposed to the ACA. His website suggests that he would like to leave a certain level of healthcare provision up to the states, which would provide citizens to choose the health care plan that best suits them, while also reducing health insurance premiums.
Cramer is staunchly pro-life. Many of his ads involve criticism of Heitkamp's beliefs on abortion. This is a position that Heitkamp has changed since her 2012 Senate campaign, where she said that third-term abortion should be illegal except in certain circumstances.
However, in 2015 she voted to filibuster a bill that proposed a ban on all abortions after the fifth month of pregnancy. Abortion is seemingly the issue that unites Heitkamp with the Democratic party, as her other issues are fairly conservative by the standards of the DNC.
Heitkamp's moderate economic policies seem to be what draws in many of her supporters. She supports small businesses and knows that national regulations and taxes can cripple the success of them.
However, she also recognizes the predatory behavior that consumers can face from large businesses. This is why she works with Republicans and Democrats in order to find a fiscal balance between helping small businesses while also protecting consumers. She also supports infrastructure packages such as flood protection systems and improving rural North Dakota's water systems.
On the contrary, Cramer is completely anti-tax. He voted in support of 2017's Tax Cuts and Jobs Act. His website cites that this act helped to reduce the unemployment rate to the lowest in 18 years, while also providing over 223,000 new jobs.
Heitkamp seems to be in a tough spot currently. Her recent vote against the confirmation of Supreme Court Justice Brett Kavanaugh seemed to diminish the chance of her flipping conservative voters, who staunchly supported his nomination.
According to various polls, Cramer is hovering near a ten point lead. Perhaps Cramer's channeling of North Dakota's primarily conservative voter base is a part of this. Normally, Heitkamp would have the advantage as the incumbent senator, yet she has not led in any polls so far this year.
It seems as if Heitkamp is attempting to be bipartisan in a time where both parties avoid the idea of working together. sticking to their values and refusing to unite as Americans.
As it looks, the 2019-2020 Senate will be split along the political aisle, with very few senators in the middle willing to compromise.