Major California flames deadliest in state history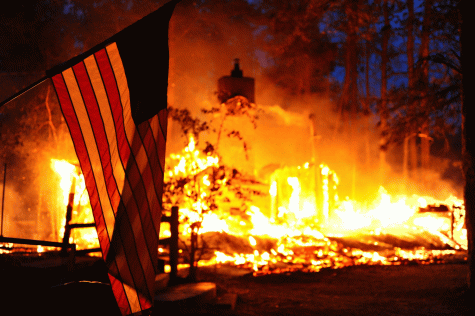 Fires have been consuming parts of CA beginning late Oct. and burning in some parts for almost all of Nov. Wildfires in this western state are not an uncommon tragedy. California's, dense population, dry surroundings, and prominent winds all constitute to form frequent fires. Earlier this year, wildfires broke out from July to Aug. However, the most recent flames have overshadowed the past summer's, with severe, record-breaking results.
Gavin Newsom, California's governor, declared a state emergency as enormous areas took on flames. The biggest of which began on Nov. 8 in Camp Creek Road, hence its name, the Camp fire. It quickly spread to surrounding areas harming a large portion of northern CA. The fire had burned 20,000 acres in just one day. At its worst, the fire advanced one football field per second. "Pretty much the community of Paradise is destroyed, it's that kind of devastation," said Captain Scott McLean of the California Department of Forestry and Fire Protection. The Camp fire was finally contained on Nov. 25 a little over 2 weeks later. In total, it burned 153,336 acres and destroyed almost 19,000 structures. Three firefighters were injured and 88 civilians died.
The same day, the Woolsey fire broke out in southern CA north of Los Angeles. Calabasas, Malibu, and Thousand Oaks were among the list of places that were ablaze. Many celebrities live in wealthy neighborhoods in these cities. Celebrities such as Kim Kardashian, Miley Cyrus, Lady Gaga, and Rainn Wilson were amongst the many who had to evacuate their luxurious homes for safety. On Nov. 21, the Woolsey fire was officially deemed as contained. All in all, the Woolsey fire burned 96,949 acres and destroyed 1,500 structures. Three civilians were killed and three firefighters were injured.
Several smaller wildfires including the Hill, Nurse, Niles, Eagle, and Donnell also scorched other areas of the state. Altogether, the results of these tragedies are extremely severe and devastating. Many schools closed for periods of time until the air was safe to breathe. Aerial shots of California showed the billowing smoke masking the land. Countless stories have been told of the horrific flames devouring homes in what seemed like the blink of an eye.
Millions of dollars have been put towards the aftermath of the devastation. The U.S. government has poured in more than $20 million to help displaced Californians. Additionally, FEMA, the Federal Emergency Management Agency, contributed $15.5 million to temporary housing situations. Celebrities, especially those affected by the fires, have provided financial support. Miley Cyrus and her husband Liam Hemsworth donated $500,00 dollars to fire relief. Similarly, Kim Kardashian and her husband Kanye West also contributed the same amount to help with the recovery efforts.
Countless organization and charities are tirelessly volunteering their time and resources to the people and community on the West Coast. The Salvation Army is providing food, the Red Cross is offering shelter and emotional support, and the Direct Relief is supplying medical resources like N-95 masks and medicine. However, you don't need to be in California to help. Many of these groups have options on their websites to directly donate money to the California wildfire funds.
In total, the fires seared more than 250,000 acres and killed at least 88 people with 196 people still unaccounted for. With the Camp fire now classified as the deadliest and most destructive wildfire in CA history, any and all donations help.