Sophomore Spring Ma performs on the guzheng at Taste
Taste of the Season is an annual fundraising talent show Fargo North does every year. All the donations, ticket sales and silent auction money will go to the Loronzo-Johnson family, a northside family in need. This variety show includes many acts such as singers, musicians, improvisers, and Fargo North music groups. A particular special act this year was sophomore Spring Ma's guzheng solo. A guzheng is a traditional Chinese instrument. The name means a zither-type instrument with strings stretched between two bridges. This instrument is very large and typically has 21 strings stretched across the instrument.
Spring Ma has been playing the guzheng for nine years now, and has taken lessons for two years. She first learned of the guzheng from a Chinese drama that she used to watch with her mom when they lived in China. In first grade, she had the option of learning the piano or the guzheng, and she's very happy with her decision.
"Now (that I'm in America) I can take piano lessons whenever," Ma said. "The guzheng is much more unique."
Spring Ma moved from China to America in second grade. The guzheng she played in China was shipped to America when they moved. As Ma has learned to play the guzheng, it has not been easy. She finds it much more difficult than the piano or violin.
"It was very hard to play in first grade, because you had to be very expressive when playing it. I had to learn how to play with emotion," Ma said.
Her favorite part of the guzheng is the sound. It has a similar resonant sound like a harp, and she loves how expressive she can be with the music.
For the variety show this year, Ma played "First Sight" by Da Fang and arranged by Jianghiu Cui. For her performance, she wore a beautiful red dress called a Hanfu, which is the traditional clothing of the Chinese Han Dynasty. She played with so much emotion and technique\; it was very cool to watch. The music was very soothing to listen to, and it was entertaining to see such a unique act. Ma was great at manipulating the strings to change the tone and rhythm throughout the song. Overall, she did an excellent job on her performance.
"I was a little nervous once I was on stage, and my hands were freezing from being outside, but I am very grateful to see all the appreciation after the performance," said Ma.
Taste of the Season was very successful this year and was able to raise lots of money for the Loronzo-Johnson family. Everyone who came to watch had a great time seeing entertaining acts, eating amazing treats, bidding on silent auction items, and donating money to a great cause.
Leave a Comment
About the Contributor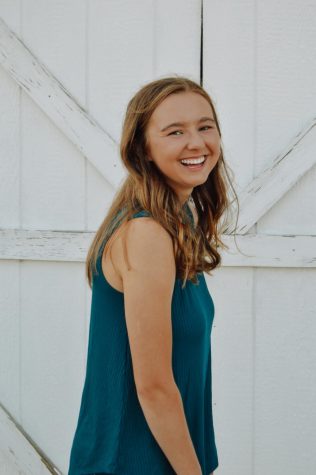 Kim Kadrmas, Editor-in-Chief
Kim Kadrmas is a senior and Editor-in-Chief for The Scroll. She is involved in many activities such as JCL, Band, and Key Club. In her free time she enjoys...