North's newest science teacher dreaming big
Many people might feel that balancing a full-time job and a passion is nearly impossible, but for North High's newest science teacher, Ryan Enerson, it is a daily routine. Enerson is currently striving to make it to the US Olympic Trials for track and field, while also balancing work, social life, and sleep.
The US Olympic Trials were going to be held on June 19-22 2020 at the Hayward Track at the University of Oregon, but with the new pandemic they were rescheduled to next year. The men's decathlon, which Enerson competes in, will be held all four days, with two to three events occurring each day.
Enerson has been competing in track and field since he was a seventh grader in Grand Forks Public Schools.
"Middle school track was the start, then it moved to high school at Red River, and then I competed at NDSU," said Enerson.
Enerson competed in track and field for five years at NDSU, not the typical four year spell like most college athletes, because he redshirted his freshman year. Redshirting allows athletes to develop their skills for a year, while also allowing them to compete longer.
Enerson was recruited through NDSU his senior year of high school.
"Recruitment in track is different than basketball, there are no scouts that come to games and coaches do not ask about you. So you kind of need to be an advocate for yourself." Enerson wasn't necessarily a stand out in track and field, but he was a talented athlete. "I was not outstanding at any one event in particular. I hurdled, high jumped, and ran a few relays and the coaches were like 'Hey maybe you could do the decathlon,' and I really didn't know what it was."
The decathlon is a hodge-podge of events, testing an athlete's ability to run, jump, and throw. The ten events that make up the decathlon in order are: 100 meter sprint, long jump, shot put, high jump, 400 meter sprint, 110 meter hurdles, javelin, pole vault, discus and 1600 meter run. Competitors earn points based on how well they do in each individual event, then points are added up at the end to determine a winner.
With ten events to specialize in, there are definitely some that come more natural than others. "I am an awful javelin thrower, that's the one I have so much room to improve on. I look at some of the best guys in the world, they are tall and have long arms, just like me. And they throw the javelin so far. I flat out stink at it, I have a lot of improvements to make." While some events are weaker, Enerson does have strengths in some of the ten events. "I am pretty good at high jump, and average at long jump and I have always liked hurdles."
Enerson was a state champion in the 110 hurdles in high school. He is also beginning to like the 400 meter dash.
"I'm slowly starting to like the 400m. Not many people like it, but it is pretty raw," Enerson said.
Track has not only brought Enerson to peak physical shape, but also helped influence his character outside of training and competing.
"I think the biggest thing is that it has forced me to be out of my comfort zone and the opportunity to pursue a goal is also a great thing."
During his time competing at NDSU, Enerson took home three Summit League indoor titles in the heptathlon and met countless teammates on the men's and women's teams.
"The friendships I have made with my teammates are incredible and one of the most rewarding things from my track career," said Enerson. Throughout Enerson's years at NDSU, there were roughly 140 athletes he met over his five years on the men's team alone.
After finishing his track career at NDSU, Enerson decided to get a full time job and continue training instead of just working a part time job.
"The biggest challenges are that I don't really get to hang out with people because I spend a lot of time at the track. There are some nights when I have been at the track until 11:30."
Enerson sacrifices a lot of time and energy, but it is all for the purpose of fulfilling the goals he has set.
Enerson hopes that his ability to work a full time job and train for the US Olympic Trials will inspire students to keep doing their best inside and outside the classroom.
Even though the trials are delayed, Enerson will still be working hard in order to fulfill his goals over the next year.
"I hope kids can take away that you can excel in the classroom, but there is always more to give. One of my favorite quotes is 'Whenever possible always give a little bit extra' which I found in "The Great Employee Handbook."" He continued by saying, "We teachers know you are grinding in here. Sitting through 8 periods is not easy. But then after school go join a club or a sport where you can keep doing your best."
Leave a Comment
Your donation will support the student journalists of Fargo North High School. Your contribution will allow us to resume physical printing of our newspaper for students at Fargo North!
About the Contributor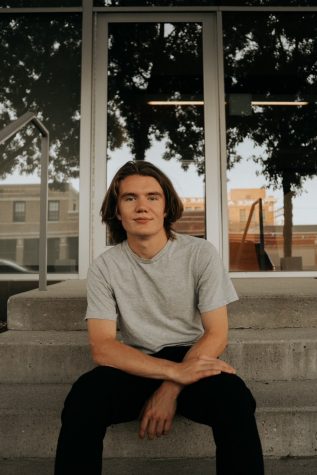 Tate Schloesser, Co-Editor-in-chief
Tate Schloesser is a senior at Fargo North. He is Co-Editor along with Elly Kenninger. Other activities Tate is in include; track, football, soccer, debate,...