Fargo North students selected as Presidential Scholar Candidates
Every year, a handful of seniors from Fargo Public Schools are recognized as Presidential Scholar candidates. These students are selected based on high scores on the ACT or SAT, or they can be nominated by their Chief State School Officer. This year three seniors: Isabelle Puhl, Sylvia Schwantes, and Alex Person, were selected from Fargo North as candidates, which gave them the opportunity to apply to be a part of this prestigious program for graduating seniors.
Each of the finalists selected from Fargo North this year has achieved very much during their time in high school in academics and extracurricular activities. All three have been together too through their academic journey, as they started at Washington Elementary in the gifted program, then went to Bernardy's advanced math class at Ben Franklin, and then they all took Latin every year since eighth grade.
"I never realized that [we grew up together academically], but that makes sense," said Sylvia Schwantes.
Sylvia Schwantes was very surprised when she learned she was a candidate for the Presidential Scholars Program, as she did not know the program existed.
"I was a little confused honestly, and when I found out it wouldn't give me any money I didn't really care," said Schwantes.
Schwantes keeps herself motivated in school through setting high expectations on herself. School comes relatively easy for her, as she naturally has a very logical brain, so she makes sure she's challenged by taking harder classes.
"I still have to try very hard to succeed in school. I try to challenge myself by taking harder classes, and thus have to work harder," Schwantes said.
The majority of Schwantes' free time is spent being involved in Fargo North's Theatre productions and the theatre club called Thespian Society. She also occasionally sings in her church's worship band. Next fall, Schwantes will attend either NDSU or St. Catherine's to study nursing. She hopes to someday become a midwife or another similar career.
Alex Person also did not know this program existed until he received his email invitation.
"I didn't even know it was a thing until I got an email and letter from them, so I was pretty surprised and excited," said Person.
As Person is at the tail end of his K-12 schooling, he says it's "just a precedent" for him to do well in school. He also enjoys learning new stuff and always tries his best in everything he does. Person's academic success comes relatively natural to him, as he usually only needs to study for the ACT or AP tests. Person's favorite extracurricular is Knowledge Bowl and he's also involved in JCL. Outside of school he enjoys playing video games, watching Youtube and Netflix, and "hanging out with friends when safe."
Person plans on attending University of Colorado Boulder and possibly transferring later. As of now he's unsure about his career path, but is thinking about becoming a teacher or professor possibly in Physics, Latin or History.
Isabelle Puhl was very surprised when she found out, but also was very happy to have her academic work recognized. Puhl knew about this honor and was hoping to receive it, but did not think she would get it. She is mostly self-motivated and has always put high expectations upon herself.
When asked if her academic success comes naturally, she said, "Just like anything else, some stuff comes very easily, but some things I really need to work hard at like physics."
Outside of school, Puhl is a three-sport varsity athlete in cross country, soccer, and hockey. She also is involved with Key Club, JCL, Fargo Moorhead Area Youth Symphony (FMAYS), and chamber orchestra. In her spare time, Puhl also regularly volunteers at the emergency food pantry.
Next fall, Puhl will either go to Columbia or the University of Minnesota. She is looking at possibly majoring in biochemistry or neuroscience. Medical school is also another thing she's considering pursuing.
Laura Simmons is also affiliated with Fargo North and was selected as Presidential Scholar finalists. Simmons is currently homeschooled, but comes to North for elective classes, such as Latin and Journalism. Due to complications with accessing her ACT scores, she did not receive notice of her candidate status until middle of February.
"Initially, I was extremely happy and relieved. Lately, it had felt like I had been applying and trying out for so many different things, yet I always seemed to get letters or emails of rejection back. This was the first email I'd received in a long time that held a letter of acceptance. It made me finally feel as if my hard work in school and in studying for national tests was finally paying off," said Simmons.
Simmons stays motivated through her rigorous academics, because she loves the challenge and learning. She's also very competitive and does not like to disappoint her family and teachers. Simmons enjoys succeeding in school, and thus spends many hours outside of class completing assignments and preparing for upcoming tests.
"I find that I'm generally slower than most when it comes to completing homework assignments. I spend a lot of time studying and preparing for tests," said Simmons.
Outside of her classes, she enjoys writing articles for The Scroll, being the State Editor for JCL, playing violin, doing service projects, and being involved in PaY and the Key Club District Board. This year especially much of her time has been spent applying for colleges and scholarships.
Simmons is currently "very undecided" with her plans for next year. As of now, she would like to go to Northwestern University in Chicago and is currently trying to get as many scholarships and awards possible to make it happen. However, she is also looking at MSUM as a backup plan, which would essentially be free for her with living at home, or taking a gap year to explore her interests and volunteer around the country or world if possible. Simmons is looking at potentially majoring in something that will help her become a journalist, author, or psychologist.
All four of these students very much deserve the recognition of being Presidential Scholar candidates, as they all scored in the upper 30s on the ACT and are all involved in a variety of extracurriculars. Laura Simmons was the only one of the four who actually filled out the application, and she will find out in May if she is one of the students officially in this program. All of the students recognized to be a part of this program should be incredibly proud of themselves and be happy that all of their hard work in school has greatly paid off.
Leave a Comment
About the Contributor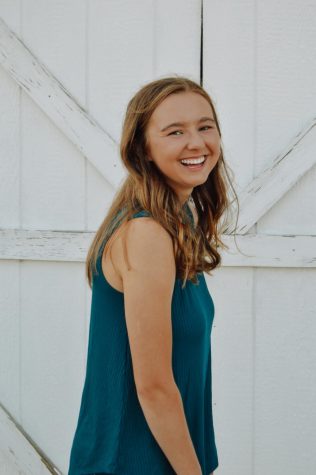 Kim Kadrmas, Editor-in-Chief
Kim Kadrmas is a senior and Editor-in-Chief for The Scroll. She is involved in many activities such as JCL, Band, and Key Club. In her free time she enjoys...