Trick-or-treating gets age limit in some states
Teenagers across the country now risk jail time if they take part in the most popular Halloween festivity. An age limit may restrict candy-seeking kids from going door to door this year.
Meridian, Mississippi, Bishopville, South Carolina, and Boonsboro, Maryland are a few cities amongst several others which are taking part or continuing to implement a maximum trick-or-treating age of 12 years old.
Lou Thurston, a spokesman for the Newport News Police Department in Virginia, says that these new regulations are only an attempt to keep people within these communities safer. "It's not like we have officers that are patrolling the neighborhood saying 'How old are you?' That's not the point," Thurston said. "The point is making the place safe."
There may be some truth to this, as vandalism reports continually are highest each year on the night of Oct. 31. Unfortunately, destruction during Halloween is not a new issue.
Although Halloween has been around for almost 2,000 years, it didn't reach the United States until much later. As expected, over time the traditions within the celebration changed drastically.
The holiday was first celebrated by Celtic countries on Nov. 1 when they thought spirits were released into the world which explained the changing of the seasons and weather. Immigrants brought this tradition with them.
Accounts of dangerous and extremely frightening trick were played on people of all ages throughout the 18th-19th century. According to Lesley Bannatyne, a folklore and popular culture author, "Pranksters coated chapel seats with molasses in 1887, exploded pipe bombs for kicks in 1888, and smeared the walls of new houses with black paint in 1891.
Two hundred boys in Washington, D.C., used bags of flour to attack well-dressed folks on streetcars in 1894."
The push for the now well-known tradition of trick-or-treating was put in place around the mid-20th century to put an end to what was known as the "Halloween Problem."
"Trick-or-treating in a large part is embraced in this country because it serves to cut down on teenage vandalism," said Hans Broedel, an expert on early traditions. With the decreased number of trick-or-treaters this year, the risk of vandalism by bored teenagers has the potential to increase, an obvious undesired result.
Both concerned parents and disappointed kids are weary of the new changes that are set in place this Halloween. For the children being affected, the absence of trick-or-treating puts a damper on the annual fun they are accustomed to. John Womeldorf, a Virginia resident, has two sons age 12 and 11 years old. His older son is saddened that he has to give up trick-or-treating after this year because of the new rules.
As Halloween quickly approaches, trick-or-treating restrictions will soon be announced to the citizens of various United States cities.
Luckily, for any of you North Dakotan candy enthusiasts still wanting to go ring doorbells on Halloween for a free mini Snickers, you still legally can!
About the Contributor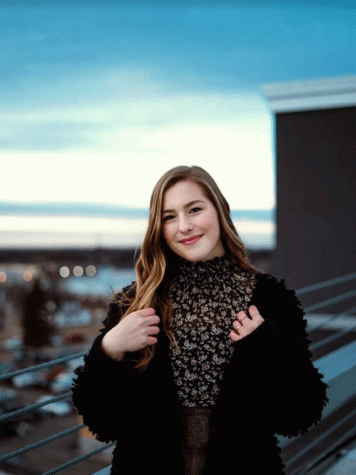 Elly Kenninger, Co-Editor-in-Chief
Elly Kenninger is a senior at Fargo North High School. She is an Editor-in-Chief. As well as being involved in journalism, she participates in basketball,...